Stemningsbilleder fra det Sjællandske Cairnskue d. 2 sep.i Roskilde
Dommer Ray Munday Scotland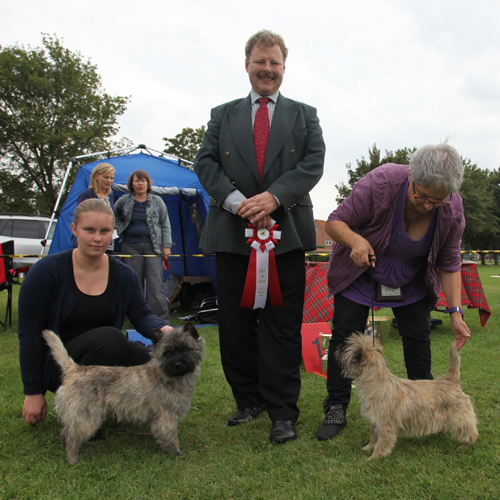 BIS 3 + BIM Jay's Joy's Dudley Moore - BIS 1 + BIR McAlister's Scarlett O'hara
Dommerrapport
Cairn Terrier Open Shows:-
1 September 2012 Vilhelmsborg
2 September 2012 Roskilde
What a delight to judge two shows of completely new cairns to me, with the added bonus of plenty of time to asses them. This enabled an extremely relaxed and most enjoyable two days of judging our ìBest Little Palî.
In the question of ìwhat I was looking for?î This is simple. ñ Balance and proportion [plus that X factor!]
A great cairn head does you no favours if the movement is poor, or the proportions of length of leg to back length are not right, and so onÖ.
Roskilde
Another great venue. Grass was reasonably level and quite short [which enabled a good view of the movement!] and perfect weather.
Some absolutely wonderful cairns here today, and thus, very difficult decisions.
No babies today but Best puppy for me was Bushwillows Born to be Wild. Lovely head and very free mover. Very promising youngster.
The boys
Junior Dog class ñ only one entry, but ìboy oh boyî was he a cracker! Dreamcairnís Clark Kent
Simply gorgeous! Perfect proportions, fabulous head, great expression, great coat, and in great condition It was quite a disappointment to me that he did not ìperformî in the final line up [He could not be handled by his owner] and thus paid for it in his placing ñthis is because the competition was so high and its tough at the top!
Other dogs to take my eye were DKCh. Glenquin Plenty of Charm and Jayís Joyís Dudley Moore. Two lovely dogs- who both covered the ground with ease and were in tip top condition. They both had the correct proportions and pushed hard all the wayî - Dudley Mooreî winning out in the final line up with BOS.
The Girls
Just like the junior Dog class ñthis one had only one entry too. The same superlative springs to mind -ìboy oh boy .. What a crackerî She was wonderful. [McAllisterís Unique Blend] In perfect coat and presented to perfection. An adorable head and a cheeky expression to match. Good length of neck running into perfect top line. Fabulous mover and showed all out. Just like Junior dog though was not handled by her owner in the final line up and subsequently did not perform L.She made the cut but I could not justify placing her higher. The competition was too tough.Next in the ring was another superb bitch -McAllisterís Scarlett OíHara. Very similar in shape and proportions to Unique blend and an absolute picture in the ring. Fabulous head. Good teeth and correct scissor bite. Lovely length of neck which flowed beautifully into a perfect top line -which she held on the move. Tail set - perfect and carried well on the move.
In my own notes -all the class winners in the bitches had positive and effusive .remarks. The championís class was a delight-picking hairs between two wonderful bitches. Both commanded attention and seemed to exude authority ñìThis ring is mineî. It was a shame that I could not pull the 2nd place in for the line-up.
When the hard decision had to be made I was torn between McAllisterís Scarlett OíHara and DKCH Cale Hillís Greta. It was so close but I picked Scarlett OíHara for BIS and Greta as Reserve BIS.
I was really pleased with the line-up I was faced with at the end of each day, in both venues. Such quality across all classes.
Also ñ Seeing junior handlers in the ring for the first time, and to be able to encourage this next generation of cairn exhibitors. Priceless
It has been a real privilege and great pleasure to judge these shows and would thank both groups for a wonderful experience and their warm Danish hospitality.
Ray Munday
Stradivarius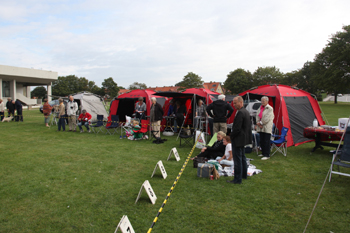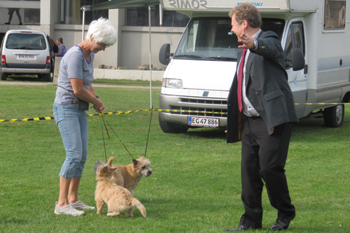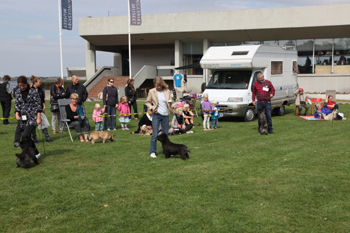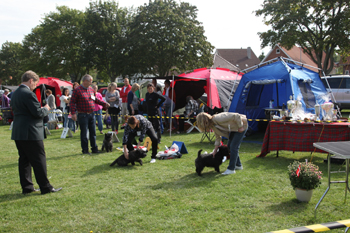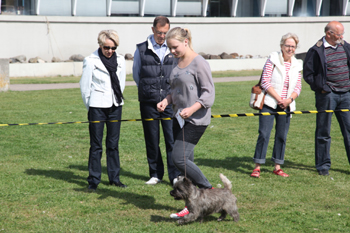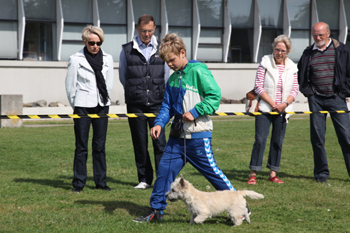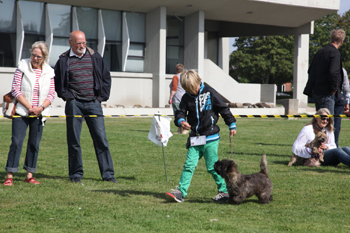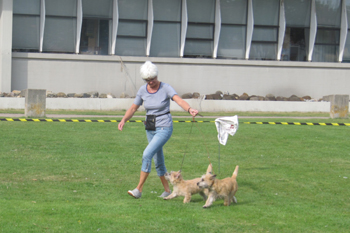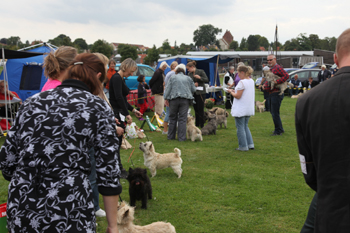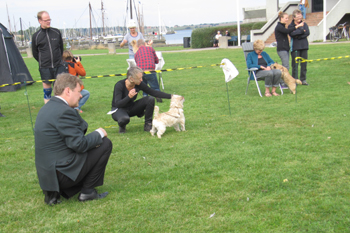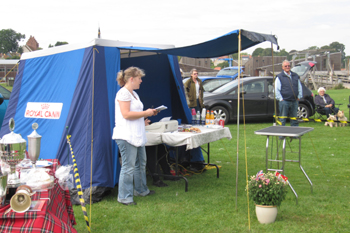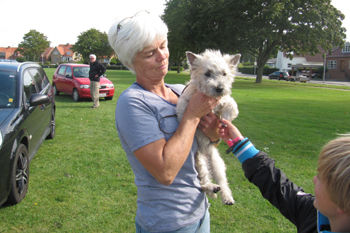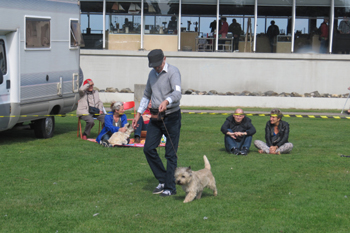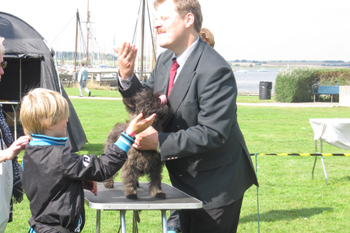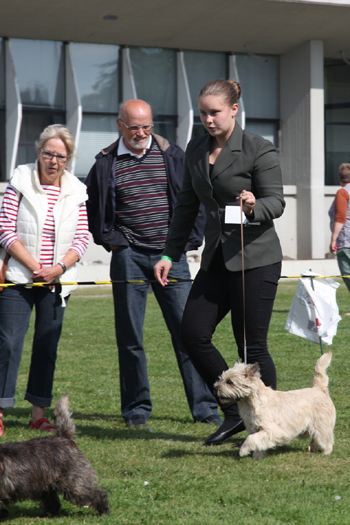 Resultatliste fra Det Sjællandske Cairnskue 2012

1

2

3

4

Hvalp Han

Bushwillow¥s Born Free

Hvalp Tæve

Bushwillow¥s Born To Be Wild

Bushwillow¥s Born To Run

Marquee Miss Macho

BIS Hvalp

Bushwillow¥s Born To Be Wild

Bushwillow¥s Born Free

Hanner

Junior

Dreamcairn¥s Clark kent

Mellem

McAlister¥s Tornado

McAlister¥s Special blend

Åben

Jay¥s Joy¥s Dudley Moore

Mr. Winterbottom¥s Joachim B. Olsen

Salvia¥s Rule 2: I¥m Good Looking

Vinder

Mr. Winterbottom¥s Sorbits

Sampson

Mr. Winterbottom¥s Vincet Van Gogh

Champion

Glenquin¥s Plenty of Charm

Veteran

McAlister¥s Eyecather

Tæver

Junior

McAlister¥s Unique Blend

Mellem

McAlister¥s Scarlett O¥hara

Åben

Cale Hill¥s Wilhelmina

Jay¥s Joy¥s Ella Fitz Gerald

Tofthus¥s Parisa

Khiwa¥s Arabella-Bonie

Vinder

McAlister¥s Milk N¥ Honey

Cashi¥s Caja Of Kamma

Champion

Cale Hill¥s Greta

Cale Hill¥s Vilhelmine

Veteran

Cale Hill¥s Mette Marit

Ru¥Cairn¥s I¥m Magic

Barn/hund

Lucas med Rosa

Marcus med Freja

Caroline med Oscar

Juniorhandling

Louise med Ella

Generation

Kennel Jay¥s Joy¥s

Opdrætsklasse

Kennel McAlister¥s

Kennel Cale Hill¥s

Kennel Mr. Winterbottom¥s

Parklasse

Kennel Bushwillow¥s

BIS 1 - 4

McAlister¥s Scarlett O¥hara

Cale Hill¥s Greta

Jay¥s Joy¥s Dudley Moore

Cale Hill¥s Wilhelmina

BIS 5 - 8

Dreamcairn¥s Clark kent

McAlister¥s Unique Blend

Glenquin¥s Plenty of Charm

McAlister¥s Tornado

BIS 9 - 12

Mr. Winterbottom¥s Sorbits

McAlister¥s Milk N¥ Honey

Cale Hill¥s Mette Marit

McAlister¥s Eyecather